HAPPY NEW YEAR!

Did you know that you can find instant answers in our shelter/rescue account Help Library? Click here! If you need additional support or just want to say hi, email Laurie & Jennifer at helpdesk@adoptapet.com. Thank you!
A look back at 2014
Get your 2015 Approved Badges here
We asked for Beta testers, and here's an update!
For your community: Renting with pets
Shelter staff, a special Purina discount for you!
***
A look back at 2014
What a wonderful and busy year we had here at Adopt-a-Pet.com! With your input on the tools and opportunities that would help you in your pet-saving and pet adoption goals, we launched tons of new features and reached many landmarks in 2014.
Statistically 2014 was stellar with 36 million unique visitors to Adopt-a-Pet.com! In December, those potential adopters sent over 60,000 pet inquires through the pet inquiry forms asking about your adoptable pets. Wow! We awarded $12,000 to shelters and rescues in grants from the Adopt-a-Pet.com Veterinary Care Fund, approved 1,802 new shelter and rescue accounts, and added four new partner sites (AllPaws, Overstock, PetMatch, FamilyPet.com) to get your pets be seen by even more potential adopters. We started beta testing our free website creator, added a bigger-thumbnail photos layout for your portable pet list for displaying your pets on your website and/or Facebook page, and improved the pet search results on our public pages with bigger pet thumbnail photos too. We also added a Help Center library and helpdesk@adoptapet.com email to more quickly be able to answer your questions and get feedback, added the ability for save your pet adopter and microchip information when you mark a pet as adopted on your Pet List, added dozens of new dog breed, cat, horse, bird, and bunny Approval Badges, created The Puppy Manual a free training and socialization guide you could give to new puppy adopters, added phone number to the pet adoption inquiry form, added dog breed information pages with expert content from dog breed rescues, and launched a total redesign of the public side of our Adopt-a-Pet.com website making it easier and faster for users to find pets to adopt. Phew!
A big thank you to all of you who helped with your feedback along the way and done beta testing for us too. We're looking forward to all we can create and improve with your help in 2015.
***
Get your 2015 Approved Badges here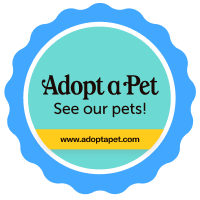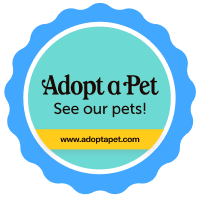 If you're already using the code we provided to display your Approval Badge on your website or blog, there's nothing you need to do, your badge 'auto-magically' updated to 2015 already! If you just used a badge image (not the code) you can get your new 2015 badge – and the automatically updating code - at the link below. We added a new Guinea Pig rescue badge too!
http://shelterblog.adoptapet.com/category/badges/
***
We asked for Beta testers, and WOW did you respond. Here's an update!
Last month, we asked for twelve volunteers to beta test our new websites builder (the feature that gives you a free, customizable website for your organization). Nearly 200 volunteers stepped forward. Wow. You guys are just THE BEST. We've chosen this group of twelve (we just did first come, first served this time), but we'll be opening up the beta to more users very soon. If you've already filled out the survey expressing your interest, no need to do anything further. If you'd like to be part of the larger beta test, please go ahead and fill out the brief survey here:
https://www.surveymonkey.com/s/LPLZKT3
Thank you so much!
***
For your community: Renting with pets
One of the top three reasons pet owners tell shelters they are giving up their pet is because of "moving" or "landlord" challenges. We've put together tips you can share with current or potential pet owners about renting with pets, to help you help those families stay together and keep pets out of shelters. The article includes links to sample pet resumes and an editable Pet Agreement too! http://www.adoptapet.com/blog/renting-with-pets/
***
Shelter staff, a special Purina discount for you!
If you are currently employed at a shelter you may be eligible for the Purina for Professionals program.  This program offers shelter employees an opportunity to buy Purina ProPlan and Veterinary Diet formulas at a discount and have it shipped directly to their home. For more details and eligibility requirements, call Purina at 1-888-777-1762.
****
And, of course… As always, we thank the wonderful, pet-loving people at Purina and Bayer Animal Health for supporting all of us in our mission and making Adopt-a-Pet.com a free service!
That's all our news for this month. We'd love to hear what's going on with you too, so please visit us on Facebook, Twitter, and Pinterest to say a virtual hello! We are using a new service to send you this email. If you have any feedback, please reply to let us know!